What do you do when you first wake up in the morning? You probably spend some precious time to browse SNS like Instagram, Facebook and so on. Instagraming lets you have a peep at celebrities' daily life and gives you inspiration towards your outfit choice. Many famous fashionistas are very active in posting their coordinates. Even if you are into the Tokyo fashion, it is arduous to find local trend-setters' account. We have sifted through thousands of fashion-related Tokyoites' accounts to bring you a selection of them. Here are 8 Tokyo-based accounts on Instagram that you should follow.
anatomica_tokyo
ANATOMICA TOKYO's official Instagram account. It attracts its followers with the daily posts of the outfits of its cool staff. You can see real ANATOMICAN styles.
Official account of Green Angle shop of Harajuku. It introduces unique manly styles mixing the brand carried, such as FDMTL, ts(s) and Nigel Cabourn.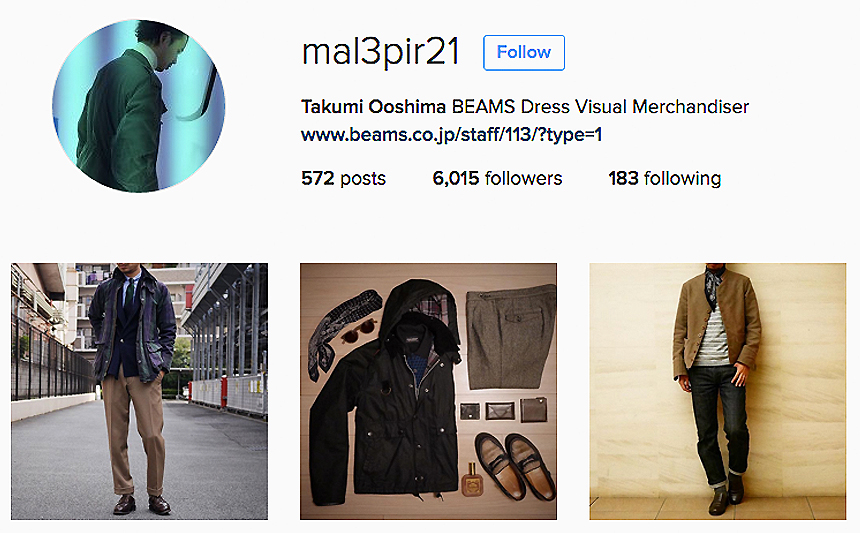 Takumi Ooshima is a visual merchandiser of BEAMS being in charge of suiting. Dressy outfits posted for us to take after .
Marinbrain daily posts clean outfits with Japanese pants brands, such as OLD JOE & CO., SPELLBOUND, OMNIGOD and Resolute.
Shoicho Ikeda is a cool young guy working for a vintage shop CUBA in Koenji. He shows how to wear big-sized vintage cool.
Snsk310000 has a unique angle to photograph his outfits. The bags chosen with the outfits always blend well in them.
Tacoswear is very good at casual styling. He wears Japanese brands, such as ANATOMICA, ENGINEERED GARMENTS and orslow, by mixing military wear and outdoor wear.
Working at FREEMANS SPORTING CLUB TOKYO, Yoshimitsu's styles are American heritage and classics. His outfits are as if being in the world of The Great Gatsby.