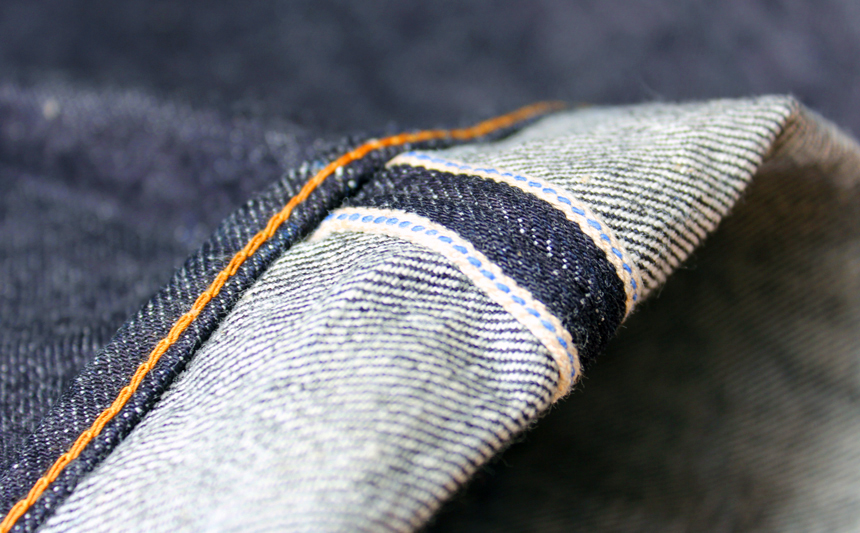 As you may know, most of the Japanese selvedge jeans come in one standard inseam length, usually in 35 inches. This is to reduce production costs but at the same time to allow most people to wear most of jeans. The difficulty most of you face with it is that the legs are too long unless you are very tall. Rolling the cuffs up several times is one of the solutions. However, our recommendation for you is to hem them to get the right length for one roll-up or none roll-up. These look much smarter than the thickly rolled cuffs.
The Structure of Jeans' Cuff
In the production process of jeans, there are two ways of stitching to finish a hem; Chain Stitching and Lock Stitching. Chain Stitching is an authentic and original sewing technique that is done only with industrial machines like ones from Union Special, which makes the technique less accessible to the public. Hems of most of jeans manufactured in Okayama are hemmed with chain stitching. It gives the denim an uneven amount of tension that pulls the fabric when it's exposed to shrinkage. This creates a roping effect; rope-looking bumps appear along the edge like vintage jeans.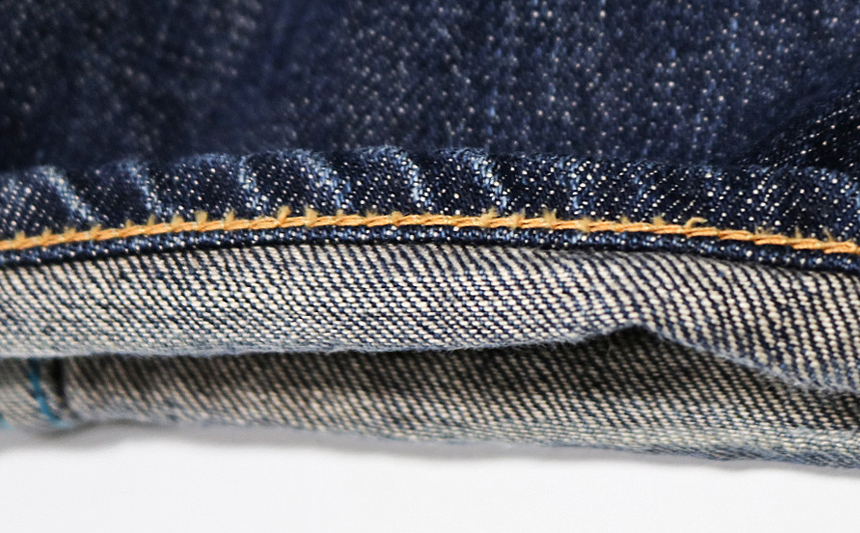 A roping effect created by chain stitches
On the other hand, Lock Stitching is a more common sewing technique that is done with an ordinary sewing machine. Most of the repair shops out there hem your jeans with Lock Stitching. We do not recommend it since Lock Stitching on authentic jeans look a bit unnatural as it does not create roping effects.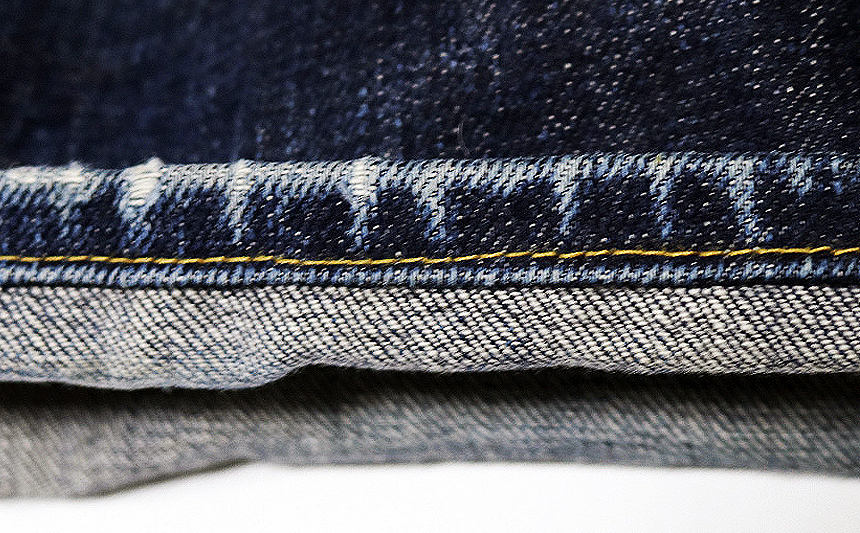 Lock Stitching
Union Special 43200G
With the reasons above, your jeans should be hemmed with Chain Stitching, ideally with vintage Union Special 43200G that makes the best roping effects. However, it is hard to do so because most of the machines are owned by Japanese. When the Japanese companies stated manufacturing the made-in-Japan jeans in the 60's, they also started buying every Union Special 43200G in the US to recreate the vintage look. Almost all of the old school machines were gone when Union Special stopped making the machine in 1989. Later the world realized that the right vintage look was only made by the missing machines when they tried to produce vintage-looking jeans.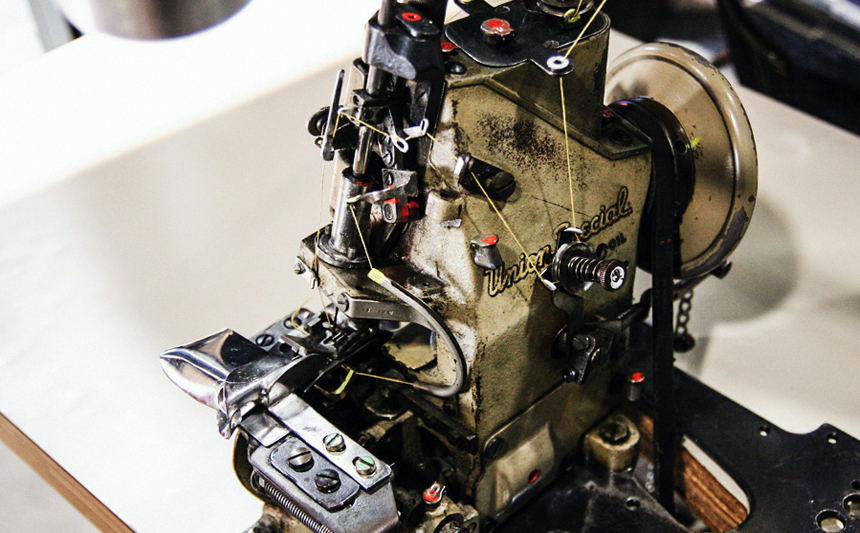 Union Special 43200G
UNION PASTIME in Tokyo
In order to get your jeans hemmed in the authentic way, you need to find a repair shop with Union Special 43200G. As mentioned, it's hard to find one outside of Japan but if you happen to be Japan, a repair shop UNION PASTIME located in Nakameguro is the one to definitely visit.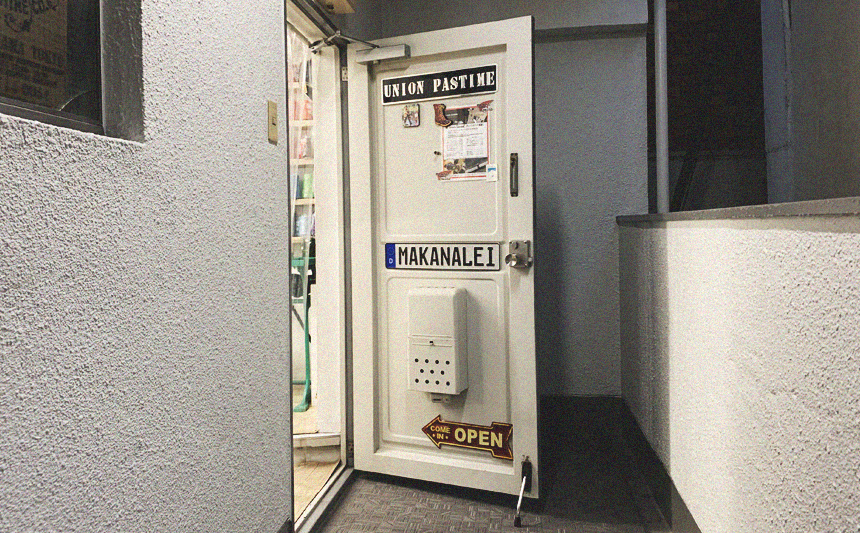 UNION PASTIME has been founded in 2008 by Yoshi Matsumura who is a former garment manufacturer/dealer of vintage jeans and American brands. They can hem your jeans with a vintage Union Special 43200G usually within the day, which is very helpful for those traveling to Japan. Ideally you should give a soaking to your pair before you bring it to UNION PASTIME as the jeans will shrink after a wash.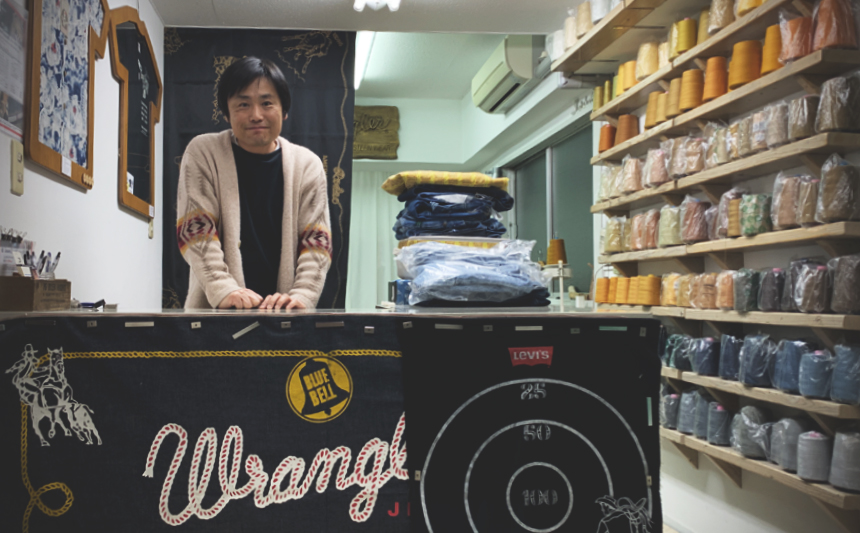 Yoshi Matsumura
UNION PASTIME
#206, 1-3-5 Nakameguro, Meguro-ku, Tokyo, 153-0061
Tel: +81-(0)3-3714-0054