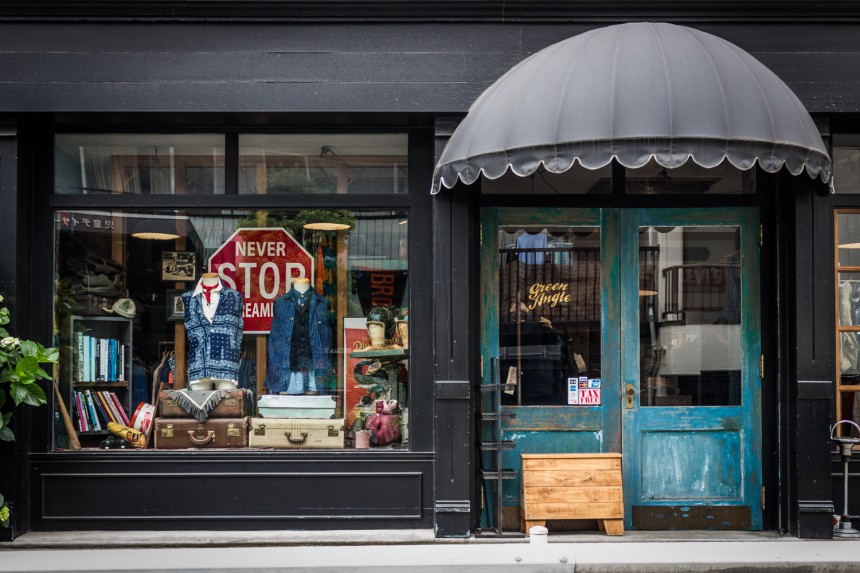 Within the fashion Mecca Harajuku and Shibuya, Cat Street hosts numbers of amazing independent shops. Green Angle is located in Harajuku side of the street. This men's multi-brand shop was founded by Kazuyoshi Udagawa in 2012.
Udagawa's first fashion career started at a legendary Hip Hop clothing shop in Daikanyama. At the same time he spent his youth DJing in Shibuya. While he was deeply into the black music, he developed his interests in American vintage clothing too. The career and knowledge he established through his youth has led himself to Ouigi Theodore from BROOKLYN CIRCUS, and they decided to launch a new brand together to bring a new point of view by mixing Asian and Black perceptions to the Japanese fashion industry. It was named GREEN ANGLE as blending paints in yellow and black makes green. Unfortunately, it was not officially started but Udagawa decided to open a store with this concept on Cat Street, and this was the beginning of Green Angle.
The moderate men's shop is filled with old American antique furniture decorated with vintage sport gears like baseball gloves, team flags etc. Its brand list ranges from Japanese brands, such as Stevenson Overall Co., ts(s) and FDMTL, to international labels being carefully selected by Udagawa. The shop has very friendly atmosphere for visitors.
Visit Green Angle when you are on Cat Street.
More photos available at our Facebook page.
Photos by Miho Okawa.
Green Angle
3-27-4 Jingumae, Shibuya-Ku, Tokyo 150-0001