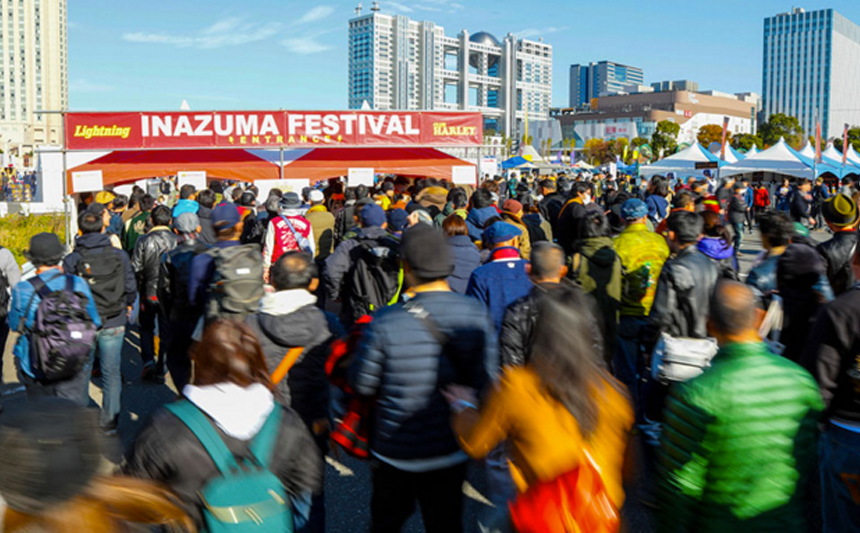 March is around the corner. The month is a popular time for tourists to visit Japan for Sakura, the cherry blossoms. You don't care about Sakura? You care only about denim? Well, even you are a denim head, you will be happy to be in Japan in March. INAZUMA FESTIVAL WEST takes place on 17th March 2019 in Osaka for Japanese denim lovers.
INAZUMA FESTIVAL is a huge open air event held twice a year by Lightning Magazine that features American traditions fashion and heritage fashion. The event consists of brand stalls, a flea market and live shows. A number of Japanese brands from the fields of workwear, motorbikes and Okayama denim, such as pure blue japan, STUDIO D'ARTISAN, THE REAL McCOY'S, WAREHOUSE, KOJIMA JEANS, FULLCOUNT and THE FLAT HEAD, compose the massive brand area. You can also enjoy exhibitions of cars and motorcycles, food stalls and various stage events. Diverse audiences in all ages, such as senior bikers, young Ametora fashionistas and fashionable families with dressed-up kids and pets visit enjoy INAZUMA FESTIVAL.
Many of our favorite brands are going to have booths at INAZUMA FESTIVAL WEST. Check for more details below.
Date: 17th March 2019
Time: 10:00 – 16:30
Location: Expo Commemoration Park
1-1 Senribanpakukoen, Suita, Osaka, Japan